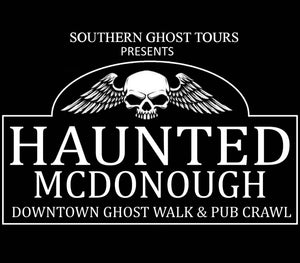 Join us for a lantern-led walk through the historic streets of McDonough. Come hear stories about the dead who still patronize the shops and restaurants refusing to cross over. Hear the stories of sightings and interactions that we've been told by employees of several establishments on the Square and see if you've unknowingly rubbed shoulders with the supernatural.
Tour Times: Friday and Saturday 7:00 PM
Start Location: The Globe Hotel at 20 Jonesboro Street, McDonough
$30.00 for Adults 
$20.00 for Children (12 and under) and Seniors (60 and older)
Please note: Gratuity for guides is NOT included in ticket price. 
This tour will function in a public environment; Southern Ghost Tours will not be responsible nor held liable for the behavior of tour guests, pedestrians, or unforeseeable street walking accidents throughout the duration of any Southern Ghost Tours presentation.