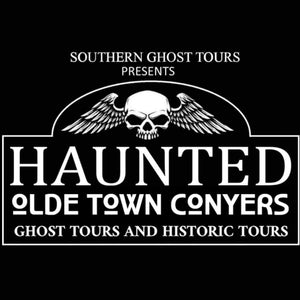 Join us on a 1.5 hour lantern led walking tour of historic Olde Town Conyers .
All old cities have secrets. Take a trip back to the 1800s to see what buildings were, and what ones still have, the presence of something lurking in the dark. Where did Sherman sit for lunch? Where are the trap doors and hidden treasures? 

Find out what paranormal investigators found right here in our little city. 
Tour Times: Friday and Saturday 7:00 PM
Start Location: 906 Center Street, Conyers
$30.00 for Adults 
$20.00 for Children (12 and under) and Seniors (60 and older)
Please note: Gratuity for guides is NOT included in ticket price. 
This tour will function in a public environment; Southern Ghost Tours will not be responsible nor held liable for the behavior of tour guests, pedestrians, or unforeseeable street walking accidents throughout the duration of any Southern Ghost Tours presentation.